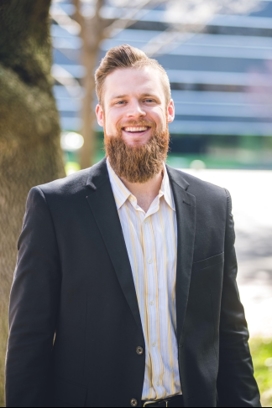 In this ongoing series, we will profile some of our distinguished members from our clubs across the country to find out why they love The Gents Place.
When asked what he did with his hair before coming to The Gents Place, Brooks Norman confesses, "I used to just buzz it myself." It was something he had just gotten used to after years of playing a lot of baseball and so periodically he would just cut his own hair at the house. Like many of our members, he heard about The Gents Place via one of our existing members, who in this case chose to gift Brooks with a VIP pass to our Preston Hollow club. Brooks was hooked from his very first experience.
"Whiskey is the way to my heart," Brooks says, "and it's so nice to be greeted when I come into the club and be handed my favorite beverage. They know what I like and how I like it." Brooks sports a very healthy beard, as you can see from his photo, and in addition to regular hair services he also gets regular beard trims with us. "More than anything, it's just important to enjoy a bit of time for myself and come out refreshed and ready to re-engage with my work."
That work is a family business, focused on wealth management. His mother is in charge of compliance and his wife of 8 years is the office manager. Their practice focuses on teaching and educating middle America on the rules of the financial game. They start by focusing on getting debt-free and then moving to financial independence. With each new client, Brooks performs an analysis that provides a 360 degree view of their finances and offers advice on how to improve their positions.
New clients come to the practice almost exclusively by referral, and Brooks chalks this up to the company (and family) values of integrity and being genuine. "We've been fortunate to have surrounded ourselves with the type of people who stretch and grow us every day, and part of that is making sure to always do the right thing."
When he's not busy running his practice, Brooks spends time with his daughters Eloise and Gemma, both under the age of 5, who particularly enjoy going to the zoo.