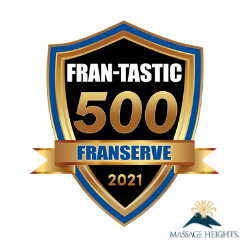 Massage Heights is proud to be recognized as a 2021 FRAN-Tastic 500 Winner!
"FranServe is one of the largest franchise consulting organizations in the world as they connect entrepreneur's to franchise opportunities. Being cited as a FRAN-TASTIC 500 brand is a prestigious recognition and Massage Heights is honored to be included on the list!," says Crystal Lizama VP of Business Development for Massage Heights.
Alesia Visconti, CEO of FranServe Inc. says, "Franchising is a doorway for many people looking to be their own boss. A brand that makes our annual "FRAN-TASTIC 500" list demonstrates that it goes above and beyond the norm in helping people fulfill their dreams of business ownership through franchising! It's a brand that sets itself apart!"
Massage Heights was founded in 2004 Co-founder and President, Shane Evans with her husband, Wayne, after realizing the need for professional and affordable massage services. Through their own experience of recurring back pain and lack of finding a consistently affordable therapeutic option for massage therapy, Shane and Wayne opened the first Massage Heights location. After realizing the growing demand for massage therapy as part of people's everyday lives to manage chronic pain, reduce stress, and countless other symptoms, they saw an opportunity to take the brand national, giving consumers an elevated experience in each Retreat. The brand has grown from a single retreat in San Antonio, Texas, to more than 120 locations across North America.
Prospective franchisees should have $175,000 in liquid assets and minimum $400,000 net worth per location, as well as experience in sales or retail management and managing hourly wage employees. As part of its growth strategy, Massage Heights is now expanding with prime territories available.
For more information about franchise opportunities with Massage Heights, visit http://www.massageheightsfranchise.com/ or call 855-311-7678.
About Massage Heights
Massage Heights is a family-owned, membership-based therapeutic services franchise company that provides Members and Guests convenient, professional, affordable resort-quality massage and facial services that help people achieve a balanced and healthy lifestyle, in an upscale Retreat environment. Regular massage and skin therapy services help people look and feel their best from the inside out by aiding in the reduction of stress, pain management and increased relaxation, all resulting in the ability to tackle daily life with a higher level of vitality and positivity, truly elevating the everyday.