Massage and Wellness Trends of 2021 are Driving Projected Growth for 2022
The stress and isolation of COVID has taught many the importance of relaxation and personal wellness. This has been most evident in the influx of business we saw once our locations reopened. We saw more and more clients who were suffering from the tolls of social distancing, working from home, and the early-on lockdowns. They craved a human connection that would benefit them long after leaving their preferred Massage Heights spa location. We at Massage Heights have been happy to deliver on this growing need.
The massage industry as a whole has made an astounding rebound in 2021, and future growth is forecasted for 2022, making a massage franchise a good investment. Mindbody launched the 2021 Wellness Index, which surveyed nearly 20,000 Americans about their views on massage and its role in their overall wellness. An amazing 78% of the respondents said that wellness is now more important than ever—definitely good news for spas throughout 2021 and moving forward and especially good news for those looking to own a massage franchise.
MASSAGE AND WELLNESS TRENDS DRIVING GROWTH IN 2022
Paying close attention to the data gathered in this survey and recognizing the industry trends spotted throughout 2021, the following factors will be more likely to drive growth in 2022.

Immunity-Boosting Treatments Will Remain Popular
A whopping 60% of those who are focusing on wellness credit the pandemic for their realization that they need to be healthier to withstand disease or illness. Because of this growing desire for wellness, clients will continue to be very interested in immunity-boosting treatments and products, both for spa and home use. While this knowledge of the immunity-boosting and wellness benefits of massage are nothing new to anyone in the business and for those who have long since been proponents of massage for well-being, the effects of these immunity-boosting treatments will be more sought after now than they were pre-COVID.
Low-Touch Treatments Will Still Have A Presence
In a desire to offer massage treatments for all comfort levels, some spas offered low-touch treatment options for those wishing to have greater distance during their massage session during the pandemic. In the survey 31% said they are eager to try low-touch services now, and as awareness of these grows, expect interest to as well.
Memberships Gaining In Popularity
With a greater awareness of the benefits of massage on overall well-being and stress reduction, clients are looking for economical ways to commit to relaxation massage services. Subscription and membership models are growing in popularity, benefitting both clients and franchise owners. At Massage Heights, our membership programs incentivize clients to make their health a priority with the cost savings they offer. They also provide great cash flow for franchise owners.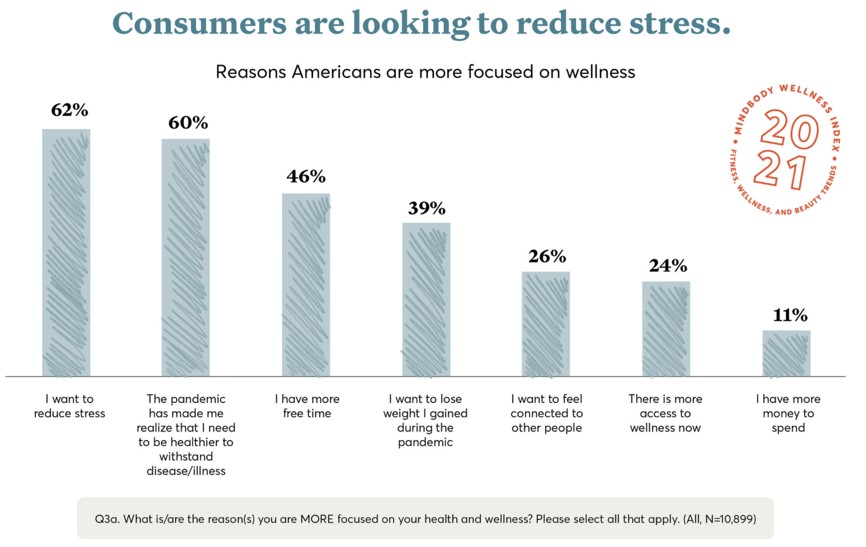 Corporate Spa Retreats Will Continue to Gain Traction
With a large number of companies continuing to have staff work remotely, there is a growing demand for corporate spa retreats in an effort to keep employees connected, morale up, and stress down. The majority of those surveyed believe wellness brings people together. A day spent together at the spa is sure to please employees while benefiting employers through happier, more content employees and fewer sick days.

Women's Health A Top Priority
There is an increase in the number of women both pre- and post-menopausal who are seeking massage treatments and products that focus on women's health. It is predicted this segment will continue to build in 2022 and beyond.
Social Media Is Your Friend
The pandemic has only increased consumers' use of social media to connect with others. The importance of a vibrant digital media plan in imperative to keep clients engaged and to recruit new clients. How-to videos, expert advice, product demonstrations – all work well on social platforms and encourage viewers to share.
Demand for Facials Skyrocket Due to Maskne
While masks are necessary, they do tend to cause acne breakouts, also known as "maskne." Healthy, glowing skin is more popular than ever.
Safety Protocols Still Take Center Stage
At Massage Heights, we have always taken the safety and wellbeing of our members, guests, and team members seriously. When the pandemic hit, we looked for ways to improve our existing measures. All independently owned and operated Massage Heights Retreats consistently practice high levels of standards in cleanliness. This is a trend that will never go away.
While 2021 was a challenging year, our industry rebounded and has exciting growth opportunities for 2022. Starting a Massage Heights franchise is an exciting opportunity with $1 million+ annual revenue potential.
Believe in

your work.
Massage Heights Franchise is an 18-year-old brand in a booming $18 billion industry. Massage Heights stands out in the marketplace because we offer an experience like no other: affordable but upscale, elevated yet convenient. Our franchisee love growing a business that not only provides local jobs but also provides services that help people live better, healthier lives through massage therapy. Contact us to learn more today.