The pandemic has created challenges for all business verticals. The massage industry is no exception. In a market that has historically seen the need for strict cleanliness and safety protocols, COVID-19 created opportunities to make additional improvements to the massage industry's standards.
The American Massage Therapy Association (AMTA) not long ago released its 2021 Massage Industry Research Report. It gives important insight into the changes the pandemic has had on the massage industry as well as the many ways the top players in this market are bouncing back. Here are some of the biggest changes the massage industry and its massage franchise owners have seen since the onset of the pandemic and the many opportunities for growth that have resulted.
As of April 2020, 86 percent of massage therapists stated they had stopped working. However, just a few months later, in November 2020, 79 percent stated they were back at work, proving the resiliency of this market. Continued growth is expected, making starting a massage franchise now a smart move. Here's more evidence a massage business is the best franchise to invest in.
Massage therapists are meeting the challenges of the pandemic, changing their work practices and cleaning and appointment procedures that are beneficial now and long-term. This includes more time between appointments to allow for additional cleaning.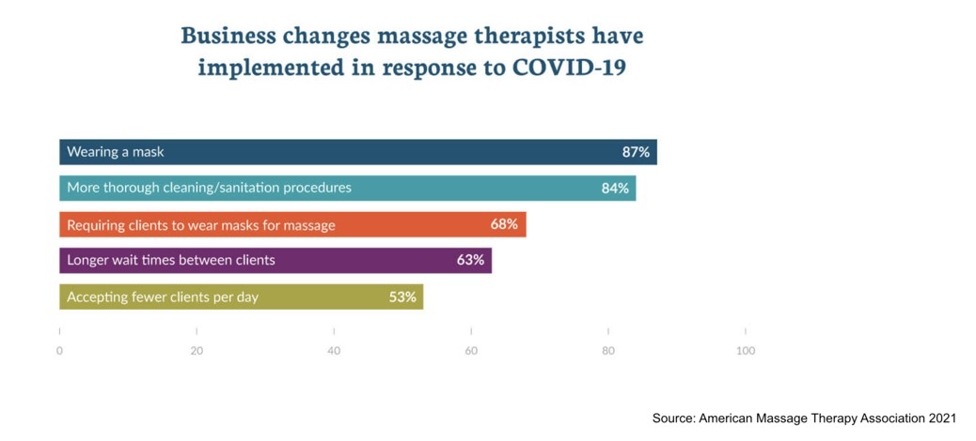 The pandemic has also meant massage therapists needed more supplies, and new supplies never before needed to run their business. The majority of these new and increased supplies are face masks (82%), cleaning products (82%) and hand sanitizer (81%), each of which help clients know they are in safe hands.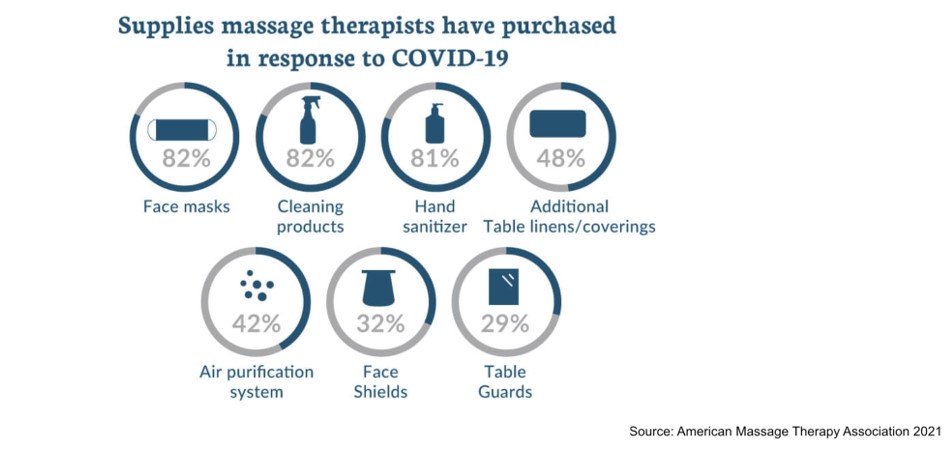 Top Reasons Consumers Gave for Getting Their Last Massage in 2020
93% of individuals surveyed view massage as being beneficial to overall health and wellness.
92% of individuals surveyed believe massage can be effective in reducing pain (25% of respondents reported they have used massage therapy for pain relief)
Consumers received an average of 3.5 massages in the past 12 months.
 
Top Reasons Consumers Gave to Get a Massage
The pandemic has quickly taught consumers the value and efficacy of massage as an important approach for health and medical conditions.
As few as 32% of individuals believe massage therapy is only a form of pampering.
83% of consumers agree massage should be considered a form of health care.
63% of massage consumers have used massage for a health or medical reason in the 12 months ending June 2020.
29% of consumers had a massage for pain relief/pain management in the 12 months ending June 2020.
A Growing Number of Consumers Seeking Massage for Health and Wellness
75 percent of individuals surveyed claim the primary reason for receiving their last massage in the 12 months ending June 2020 was for health or wellness (49%) or stress related (26%).
Health or wellness reasons included pain relief, soreness, stiffness or spasms, injury recovery, migraines, prevention, pregnancy or prenatal, and general well-being.
An Increasing Number of Medical Providers Are Recommending Massage
Medical providers and doctors are more commonly viewing massage therapy as a complementary option to address health concerns.
Of consumers who discussed massage therapy with their doctor or medical provider:
25% were referred to a massage therapist.
24% indicated they were strongly recommended by their doctor or medical provider to receive a massage.
23% indicated that they were encouraged by their doctor or medical provider to receive a massage.
19% were told that a massage might benefit them.
While the pandemic did disrupt the massage industry, as it did with just about every other industry, the outlook for growth in this market is very positive. Thankfully, the pandemic also caused consumers to see the real value of massage. This is evident in the rapid rebound the massage industry is seeing, making owning a massage franchise an attractive option for many entrepreneurs.